PROPERTY: LOCAL DEVELOPER A CONTENDER FOR ESCONDIDO CAMPUS
Talks Over Sale of Hospital Site Appear to Be in Progress
Sunday, January 28, 2018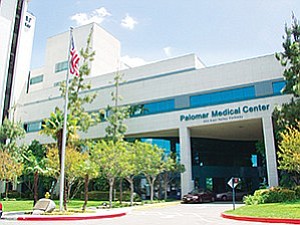 San Diego — North County developer Integral Communities appears to be in talks with Palomar Health to redevelop a hospital campus that's been a landmark of downtown Escondido since the 1950s.
"Definitely they are one of the contenders, if not the top," Mayor Sam Abed said of Encinitas-based Integral, but added the hospital would need to confirm and he doesn't have details of the negotiations.
In a statement, Palomar Health didn't confirm or deny Encinitas-based Integral being in play. The hospital district has been tight-lipped on the property.
"Palomar Health is continuing negotiations with potential buyers of the downtown medical center property to bring the most value to the health district while providing the residents of Escondido with a signature development," Palomar's statement said.
The sale of the 14-acre hospital property fell through last year.

Mixed-Use Opportunity
Palomar has called for redeveloping the site into housing, for sale or rental, plus commercial space.
Abed said representatives of both Palomar and Integral recently spoke at a council meeting against raising developer fees, a strong signal of mutual negotiations.
"Basically, they made it very clear to us that they are negotiating with the hospital," Abed said.  
Ultimately, the council hiked fees, but phased in increases among downtown multifamily developments to avoid or cushion the impact on near-term projects.
Integral's opposition to the fees made it possible to "put two and two together" regarding the property talks, said Rorie Johnston, president and CEO of the Escondido Chamber of Commerce.

"It is my understanding due to some circumstances that Integral is in communications," she said.
Johnston said Palomar has kept its cards close to the chest so it's tough to say whether other buyers are in the mix.

"If there are other negotiations, they have been very good about not letting that leak out," she said.
Integral did not return a request to comment.
Annual Operating Loss
Palomar previously stated it had little choice but to sell the hospital, due to running at an estimated $20 million annual operating loss. Deferred maintenance and other costs to bring the building fully up to code would cost $162 million.
Although slated for sale, Palomar Medical Center Downtown Escondido remains partly open, offering behavioral health inpatient beds, a crisis stabilization unit, radiation, rehabilitation and other services.
Palomar Health has several North County facilities, including hospitals in Escondido and Poway, health clinics in Escondido and San Elijo Hills and a skilled nursing facility in
Poway.
Gateway to Downtown
Johnston said the site could accommodate a high need for housing, particularly for-sale homes, within walking distance of downtown.
"It's a gateway to our downtown so it's extremely important that the property be developed in a manner that supports commerce for Escondido," she said.
A few years ago the site was assessed at $25 million. Palomar in its statement said it will realize an annual savings of $12 million once the property is sold.
Last May, a deal between Palomar and an undisclosed buyer fell apart.

Abed said Integral could be a great partner.
"Integral Communities has done many projects in Escondido, so they are a trusted developer," he said.