Gift of $30M Will Help Build 'One-of-a-Kind Children's Zoo'
Sunday, January 28, 2018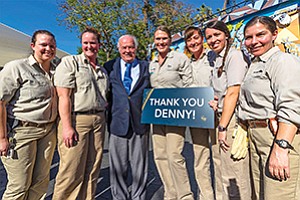 San Diego — Philanthropist T. Denny Sanford announced during a San Diego Zoo employee meeting in January that he is making a $30 million donation — the largest single gift the San Diego Zoo has ever received. This gift will go toward the estimated $69 million cost of constructing a brand-new, completely re-imagined children's zoo, to be named The Sanford Children's Zoo.
Mark Stuart, president of the Foundation of San Diego Zoo Global said: "This project is the most ambitious ever undertaken at the San Diego Zoo and will result in a one-of-a-kind children's zoo for the 21st Century."
Sanford has long been a generous supporter of the San Diego Zoo, and he is the largest donor in cumulative gifts to San Diego Zoo Global. Born in 1935 in Saint Paul, Minnesota, Sanford is a South Dakota businessman, philanthropist and part-time La Jolla resident. Sanford is also a signatory to the Giving Pledge and has already given an estimated $1 billion to charitable causes, and plans to distribute most, if not all of his remaining fortune within the course of his lifetime. The vast majority of his money goes to help children, and to children's health initiatives in particular, according to the website Inside Philanthropy.
A fundraising campaign for the new children's zoo will start immediately. Based on the success of this effort, it is anticipated that the current Children's Zoo will close in January 2019, as construction begins on the new Sanford Children's Zoo, which is expected to be completed in spring 2021. Visit sandiegozoo.org/childrenszoo.
• • •
Jewish Family Service of San Diego recognized Sara Schwartz, database and training manager and Crystal Chouinard, advancement services specialist with its Henrietta Rubenstein Staff Development Award for 2017. The annual award highlights exceptional team members who demonstrate excellence, initiative, professionalism and leadership in their role and is named after the late Henrietta Rubenstein, JFS' executive director from 1951 until 1968.
"These recipients were nominated because of their commitment to learning and ability to be a teacher," said JFS CEO Michael Hopkins. "They are both action-oriented and have earned the respect of the team and their peers. Sara and Crystal are an inspiration to our staff." Visit jfssd.org
• • •
The Association of Defense Communities, along with their official sponsor, USAA, have named San Diego as a 2018 Great American Defense Community for their regional support of three innovative and unique programs: Support the Enlisted Project, Stand Down San Diego and Veteran Ventures.
Support The Enlisted Project (STEP) builds self-sufficiency with young military and veteran families in financial crisis, through financial counseling, emergency grants and other support programs. Stand Down San Diego provides access to services for homeless veterans, including food. Veteran Ventures at University of California, San Diego is a business accelerator program that supports veteran entrepreneurs.
San Diego's Mayor, Kevin L. Faulconer said, "This national recognition is a credit to the citizens of San Diego, businesses, nonprofit organizations and universities who all do their part to work with, care for, and support our military community."
More than 106,500 active duty Navy and Marines are stationed in San Diego. Additionally, more than 233,800 military veterans reside in the San Diego region.
This year's selected communities will be honored at the Defense Communities National Summit in Washington, D.C. in June.
• • •
Life Perspectives, a nonprofit organization in La Mesa that provides healing resources for families worldwide who are experiencing loss through miscarriage or abortion, has received a $15,000 Duane Roth Legacy Grant. The Duane Roth Legacy Grant will enable Life Perspectives to conduct two reproductive grief and loss half-day training seminars for nonprofit community and health organizations in San Diego County. The funding will also allow the agency to prepare two trainers to conduct these seminars for mental health professionals.
Michaelene Fredenburg, president and founder of Life Perspectives said: "...This generous grant will help us train professionals who, in turn, will help make a difference in these lives." Visit lifeperspectives.com.
Send Kudos/Giving items to sglidden@sdbj.com.