Finalists for Health Care Heroes Awards Announced
Sunday, January 28, 2018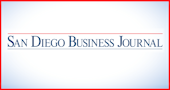 The San Diego Business Journal just announced the finalists for the 2018 Health Care Heroes Awards, and tickets are on sale.
The 2018 Health Care Heroes Awards, which honors individuals within the San Diego community who have demonstrated exceptional leadership and innovation in the rapidly changing health care sector.
The networking and awards program is set for Wednesday, February 28 at The Westin Gaslamp Quarter (910 Broadway Circle) and will recognize finalists and winners in various categories, including company CEO, company executive, emergency medicine, first responders, health care educator, nursing or therapy professionals and physicians.
Irma Cota, president and chief executive officer for North County Health Services will receive the Lifetime Achievement Award.
Gold sponsors for the event are Pacific Premier Bank and Tri-City Medical Center.
To purchase tickets online: http://www.sdbj.com/bizevents/. For additional information, contact the events department at 858.277.6359.