PROPERTY: RENTS AT COMPLEX TO BE SUBSIDIZED BY VOUCHERS
New Apartment Complex to Provide 52 Units for Veterans
Wednesday, January 24, 2018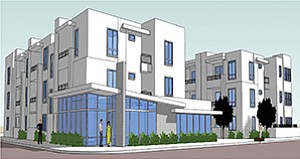 A vacant lot in Normal Heights is being transformed into an apartment complex for homeless veterans.
Within about a year, 52 apartments at The Lofts at Normal Heights, 3808 El Cajon Blvd., are expected to start accepting tenants, said Debbie Ruane, executive vice president and chief strategy officer of the San Diego Housing Commission.
"We need more permanent supportive housing units like the 52 studios and one-bedroom rental apartments that The Lofts at Normal Heights will provide," Ruane said at a recent groundbreaking ceremony.
"All these units will remain affordable for 55 years for individuals with income up to 50 percent of San Diego's area median income, which is $31,850 a year for an individual," she said.
Built by Chelsea Investment Corp., the $18.8 million project consists of 32 studio apartments, 20 one-bedroom apartments and one two-bedroom apartment for a building manager.
The units range in size from 500 square feet for studios and 670 square feet for one-bedroom apartments.
"What is particularly gratifying for this project is that it serves veterans," said Chelsea Investment President Cheri Hoffman. "They have to have a safe and stable environment."
Affordable Housing
The Lofts is but one of many affordable projects the Carlsbad-based company has done, Hoffman said.
Most recently, the company worked with the City of Chula Vista to provide 123 rental apartments for low income seniors and 87 apartments for low income families at Millenia in Otay Ranch.
"That is what we do, we develop affordable housing," Hoffman said.
The Lofts was designated as homeless veteran housing as opposed to affordable housing for low income families in general partly because some of the money to build it comes through the state Department of Housing and Community Development Veterans Homeless Prevention Program.
Rents in the Lofts also will be subsidized with housing vouchers earmarked for veterans. The vouchers will go with the apartments, so when someone moves out, the person who moves in will get the voucher "to help another homeless veteran obtain a path off the streets," said Ruane of the Housing Commission.
Veterans in 2017 accounted for 1,054 of the city's 5,621 homeless people counted in the WeAllCount survey — also known as the Point-in-Time Count — done by the Regional Task Force on the Homeless.
Of those, 454 homeless veterans were living on the streets, beaches and in parks in 2017.
The one-day survey was taken Jan. 27, 2017 with a 2018 survey scheduled for Jan. 26.
Bob McElroy, president and CEO of the Alpha Project, contends that the one-day count far underestimates both the total number of homeless in San Diego as well as the number of homeless veterans.
The Alpha Project, a nonprofit agency serving the homeless, will provide social services to The Loft residents.
McElroy said veterans account for 25 percent to 30 percent of the overall homeless population in San Diego.
The Lofts will provide "a safe place for them (veterans) to regain their humanity," he said. "There are going to be 52 people out there who are homeless today who won't be homeless in a year."
Financing for The Lofts included a $13.5 million construction loan from Union Bank and $5.2 million in loans from the Housing Commission.
"Union Bank has a really deep history in San Diego reaching back over 100 years," said bank Vice President Brian Frankel. "To that end, we're very proud to continue this tradition by financing projects like The Lofts at Normal Heights, which will make a meaningful impact in the community today and into the future."