PROFESSIONAL SERVICES
SD 500: Stephen Easley
Tuesday, January 23, 2018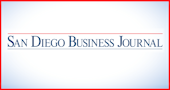 The San Diego 500, The Book of Influential Business Leaders, is the market's most comprehensive product of people you should know in the business community. The 500 includes business leaders and executives who have founded or are running significant companies in terms of number of jobs, key products and services, experts who raise the level of the industry here and beyond and those who lead in the business community. The 500 is selected by the San Diego Business Journal newsroom.
Stephen Easley
President and CEO, G/M Business Interiors
"Elevate your Workplace" is the trademarked motto of G/M Interiors and President/CEO Stephen Easley. With an eye on workplace efficiency, but also ergonomics and ascetics, the company received rave reviews in 2017 from clients in the private and public sectors. Some of their 2017 projects included the City of Ontario Police Department, Riverside's City Hall and the Fontana Police Department. The company was also active in 2017 in colleges and health care. Out of college, Easley worked for Bobby McGee's USA, climbing his way up from waiter to training manager while helping open sites in California, Colorado and Arizona. Easley has been the president, CEO and owner of the company since 1989. During that stretch, G/M has grown to be the largest independent dealer in San Diego.
ALMA MATER: University of California, Riverside
COMMUNITY IMPACT: Over the last two years, G/M Business Interiors has helped raise more than $130,000 for Ronald McDonald House Charities of San Diego.
FUN FACT: Easley was a member of the UC Riverside men's golf team.