REAL ESTATE
SD 500: Rob Wellington Quigley
Tuesday, January 23, 2018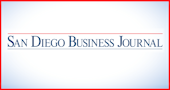 The San Diego 500, The Book of Influential Business Leaders, is the market's most comprehensive product of people you should know in the business community. The 500 includes business leaders and executives who have founded or are running significant companies in terms of number of jobs, key products and services, experts who raise the level of the industry here and beyond and those who lead in the business community. The 500 is selected by the San Diego Business Journal newsroom.
Rob Wellington Quigley
Principal, Rob Wellington Quigley FAIA
Rob Quigley has more than 40 years of experience producing award-winning buildings throughout the western U.S. and Japan. His portfolio includes academic buildings, cultural centers, high-rise towers, and master plans for neighborhoods, campuses, parks and transit corridors. He was an early proponent of sustainable design and green building, and his firm has won more than 70 regional and national awards. He began his career in the Peace Corps, designing homes for the poor in Chile. He spent almost 30 years advocating for the iconic downtown library, which was the first LEED-certified library in the U.S.
ALMA MATER: University of Utah (Bachelor of Architecture)
NOTEWORTHY: He designed and built a five-story, glass and granite home in the East Village with a view of the downtown library.
FAVORITE BUILDING DESIGN: The Salk institute for Biological Studies.