LEADING INDUSTRIES
SD 500: Rear Admiral Yancy B. Lindsey
Tuesday, January 23, 2018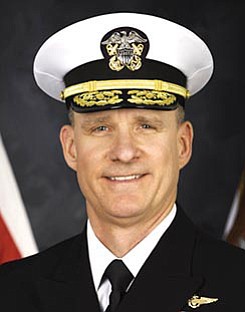 The San Diego 500, The Book of Influential Business Leaders, is the market's most comprehensive product of people you should know in the business community. The 500 includes business leaders and executives who have founded or are running significant companies in terms of number of jobs, key products and services, experts who raise the level of the industry here and beyond and those who lead in the business community. The 500 is selected by the San Diego Business Journal newsroom.
Rear Admiral Yancy B. Lindsey
Commander, Navy Region Southwest
Rear Admiral Yancy B. Lindsey's command of Navy Region Southwest comes with the unofficial title of "Navy Mayor" of San Diego. He also gained responsibility for housing, security, family services, medical and logistical concerns for hundreds of thousands of active-duty, reserve and retired military personnel in the region's six states. He served as commander of Coronado Naval Base from 2009 to 2012 and commandant of Naval District Washington from June 2015 to August 2016. A naval aviator, his sea duties include commander Carrier Airborne Early Warning Squadron 117, known as the "World Famous Wallbangers." 
ALMA MATER: UC Berkeley, Marine Corps University, University of San Diego
FUN FACT: His call sign is "Lurch," thanks to his deep voice.