LEADING INDUSTRIES
SD 500: Michael J. Kelly
Tuesday, January 23, 2018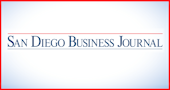 The San Diego 500, The Book of Influential Business Leaders, is the market's most comprehensive product of people you should know in the business community. The 500 includes business leaders and executives who have founded or are running significant companies in terms of number of jobs, key products and services, experts who raise the level of the industry here and beyond and those who lead in the business community. The 500 is selected by the San Diego Business Journal newsroom.
Michael J. Kelly
General Manager, GKN Aerospace Chem-Tronics Inc.
Michael Kelly oversees the El Cajon-based facility that manufactures engine casings for most commercial airplanes and military jets, and repairs engine fan blades for more than 200 airlines. GKN has annual revenues of about $200 million and now has about 800 employees. It is part of a British conglomerate that makes engine casings for Rolls Royce, Pratt & Whitney, General Electric and also for Airbus and Lockheed Martin's F-35 Joint Strike Fighter.
COOL ASPECT OF JOB: "There is something we make flying on some plane 24 hours a day."
TOUGHEST CHALLENGE: "At 30,000 feet, there's no tow truck, that's the joke. They know that their little piece of what they're doing keeps a plane in the sky."