TECHNOLOGY
SD 500: Ken Olson
Tuesday, January 23, 2018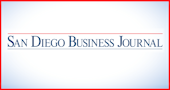 The San Diego 500, The Book of Influential Business Leaders, is the market's most comprehensive product of people you should know in the business community. The 500 includes business leaders and executives who have founded or are running significant companies in terms of number of jobs, key products and services, experts who raise the level of the industry here and beyond and those who lead in the business community. The 500 is selected by the San Diego Business Journal newsroom.
Ken Olson
Partner, Now Commerce
In addition to his day job as a partner with Now Commerce, Ken Olson has served on the boards of numerous public companies, including Digirad, WD-40, Avanir Pharmaceuticals, Neonode, Laser Power, as well as a diverse group of other institutions. Those organizations range from the Monarch School, a K-12 school for children affected by homelessness. Olson is a current board member of the school. Olson is also a former chairman of the UCSD Librarian's Advisory Board of the Children's Museum of San Diego. Since 2013, Olson has been the San Diego County Water Authority's representative for Del Mar, a position he will hold until 2023. He is also the chairman of IQinVision, a manufacturer of surveillance cameras. Founded in 2003, Now Commerce provides a B2B order processing software service.
ALMA MATER: Pepperdine University, MBA from UCLA
FUN FACT: Formerly a foster parent.