REAL ESTATE
SD 500: Gary Shekhter
Tuesday, January 23, 2018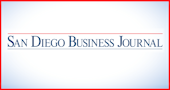 Gary Shekhter
CEO, Helix Electric
Started in 1985 from a small office in El Cajon, Helix Electric has grown to have offices on both coasts, Hawaii and multiple shops in California and Nevada. Born in Odessa under the blanket of the former Soviet Union, Shekhter's family rejected the ideals of the Communist Party. After arriving in the United States in 1979, three days to be exact, Shekhter began working at Circle Electric, a now defunct contracting company. He quickly rose to general manager and was tasked with handling day-to-day operations. Professionally, he was thinking bigger and would eventually start Helix – which has gone on to earn more than 50 performance awards.
EARLY EDUCATION: He followed his parents – both engineers at state-owned companies in Russia – and studied electrical engineering at Odessa Polytechnic Institute.
GIVING BACK: Throughout his career, he has done extensive work with the Jewish Federation of San Diego County.