REAL ESTATE
SD 500: Donald Ankeny
Tuesday, January 23, 2018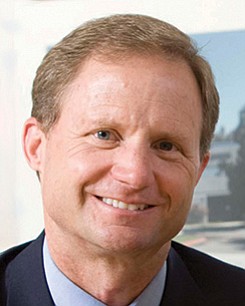 The San Diego 500, The Book of Influential Business Leaders, is the market's most comprehensive product of people you should know in the business community. The 500 includes business leaders and executives who have founded or are running significant companies in terms of number of jobs, key products and services, experts who raise the level of the industry here and beyond and those who lead in the business community. The 500 is selected by the San Diego Business Journal newsroom.
Donald Ankeny
President and CEO, Westcore Properties
Donald Ankeny, who joined Westcore Properties in 2005, presides over the company's domestic portfolio of office and industrial properties, which currently totals more than 20 million square feet valued at more than $1.5 billion. He also has a key role growing the company's investment and operating platform with his experience in capital markets. Ankeny has overseen the acquisition and management more than $4 billion in industrial and office assets comprised of more than 750 buildings totaling more than 35 million square feet. Previously, Ankeny worked at Robertson Stephens, a global investment banking firm that was acquired by Bank of America and later by BankBoston, and the Trammell Crow Co. Ankeny has served as a trustee at The Bishop's School in La Jolla.
ALMA MATER: Dartmouth College (AB, economics), Stanford University (MBA)
HONORS: He was the winner of the SDBJ Most Admired CEO Award for Medium Sized Companies in 2016. He also was one of six local recipients in the 2016 EY Entrepreneur of the Year Awards.
LONG AGO: He played hockey at Dartmouth.
STILL ACTIVE: He has been in a frequent participant in the weeklong 620-mile bike ride to benefit the Challenged Athletes Foundation.