ICONS - LEGACY
SD 500: Deborah Szekely
Tuesday, January 23, 2018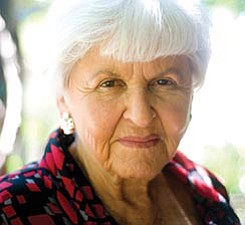 The San Diego 500, The Book of Influential Business Leaders, is the market's most comprehensive product of people you should know in the business community. The 500 includes business leaders and executives who have founded or are running significant companies in terms of number of jobs, key products and services, experts who raise the level of the industry here and beyond and those who lead in the business community. The 500 is selected by the San Diego Business Journal newsroom.
Deborah Szekely
Founder, Golden Door & Rancho La Puerta
Szekely, now 95, has been called "the godmother of the wellness movement" and is best known locally for founding the Golden Door spa in Escondido. In 1940 she and her then-husband opened Rancho La Puerta, a wellness camp in Mexico that was part commune, part spa. Today, Rancho La Puerta is a 3,000 acre resort and favorite of celebrities and wellness gurus. The Golden Door attracts fiercely loyal regulars, including Oprah Winfrey and Martha Stewart.