REAL ESTATE
SD 500: Brad Termini
Tuesday, January 23, 2018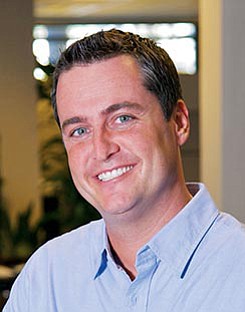 The San Diego 500, The Book of Influential Business Leaders, is the market's most comprehensive product of people you should know in the business community. The 500 includes business leaders and executives who have founded or are running significant companies in terms of number of jobs, key products and services, experts who raise the level of the industry here and beyond and those who lead in the business community. The 500 is selected by the San Diego Business Journal newsroom.
Brad Termini
Co-CEO, Zephyr Partners
Brad Termini of Encinitas developer Zephyr Partners is a native of Buffalo, N.Y. He first worked in the family real estate development and management company, learning the business under his parents. He came west in 2003 and landed a job with the Corky McMillin Cos., which was turning the former Naval Training Center into the Liberty Station mixed-use development. He co-founded Zephyr with Dane Chapin in 2008. Zephyr recently sold a 60,000-square-foot mixed-use site on Broadway for about $33 million; they acquired it in 2014 for $21.1 million. The company is part of a development team that has proposed a resort above dog beach in Del Mar.
ALMA MATER: State University of New York at Buffalo
FIRST JOB: Construction laborer
IDEAL JOB: He told the SDBJ in 2013 that he would like to buy the NFL's Buffalo Bills and restore them to their '90s glory.