Organic Baby Food Startup Once Upon a Farm Moves to Berkeley
Tuesday, January 23, 2018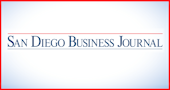 Once Upon a Farm, a company that makes cold-pressed organic baby foods and applesauces, has relocated its headquarters from San Diego to the city of Berkeley in Northern California.
In 2017, the company brought on John Foraker, the former head of Berkeley-based organic food brand Annie's Homegrown and an early investor in Once Upon a Farm, as chief executive.
At the time, cofounder Cassandra Curtis said the company's leadership would split time between San Diego and the San Francisco Bay Area.
Once Upon a Farm was launched locally in 2015 by Curtis and Ari Raz. Local operations were formerly in Kearny Mesa.
Annie's sold to General Mills for $820 million in 2014; Foraker stayed with General Mills following the acquisition until his move to Once Upon a Farm.
Reach startups and finance reporter Sarah de Crescenzo at sarahd@sdbj.com.