USD Team Takes First in Deloitte Tax Case Competition
Monday, January 22, 2018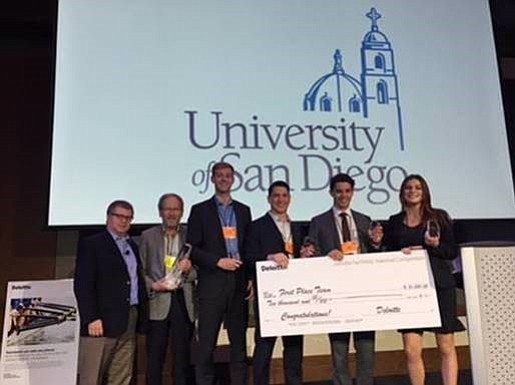 A team of students from the University of San Diego won first place at the Deloitte FanTAXtic case study competition in January.
The competition was launched in 2002 to familiarize students with the tax profession.
Finals for the national competition were held at Deloitte University, the company's learning and leadership development campus in Texas. Teams presented analyses of a business tax case.
Members of the first place team were Andrew Cole, Michael Diaz, Simon Finnie and Barbara Machado. Each received $2,000 in scholarship money, and the University of San Diego received $10,000.
A team from Loyola University placed second; Michigan State University, third.
Teams from College of William & Mary, Fordham University, North Carolina State University, Rutgers University, Syracuse University and the University of Southern California also participated.
Each team qualified for the finals by winning their regional contest. Nearly 60 teams representing more than 40 colleges and universities participated in those qualifying events.
"This competition provides an invaluable setting for students to prepare for a career in tax, interact with peers from other colleges and universities, and be inspired by knowledgeable professionals," said University of San Diego's Thomas Dalton, the faculty advisor. "Our students are given the opportunity to hone their communication, analytical and research skills."
Reporter Sarah de Crescenzo can be reached at sarahd@sdbj.com.