REAL ESTATE
SD 500: George Pierson
Monday, January 22, 2018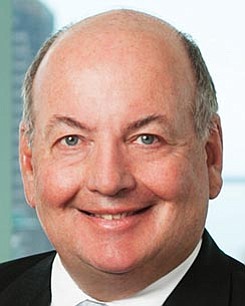 The San Diego 500, The Book of Influential Business Leaders, is the market's most comprehensive product of people you should know in the business community. The 500 includes business leaders and executives who have founded or are running significant companies in terms of number of jobs, key products and services, experts who raise the level of the industry here and beyond and those who lead in the business community. The 500 is selected by the San Diego Business Journal newsroom.
George Pierson
CEO, Kleinfelder
George Pierson joined Kleinfelder in September 2016. Prior to that, he was the president and CEO of professional services firm Parsons Brinckerhoff, which was sold in 2014. At that time, between private consulting and serving on five corporate boards, Pierson didn't foresee taking on a new executive position. But the short-lived retirement came to an end the more he heard about Kleinfelder, an employee-owned engineering, architecture and science consulting company. Pierson in a June 2017 San Diego Business Journal article said he has re-structured Kleinfelder to give divisions more autonomy. He also cited the accomplishment of better communicating to clients the breadth of services Kleinfelder offers.
ALMA MATER: Bucknell University, UC Berkeley, Harvard University, St. Mary's College of California.
WELL EDUCATED: He has an MBA and a law degree.