REFORM: COS. HAVE INCENTIVES TO ADD STAFF, MAKE CAPITALS INVESTMENTS
Lower Corporate Tax Rate Will Generate Free Cash Flow
Sunday, January 21, 2018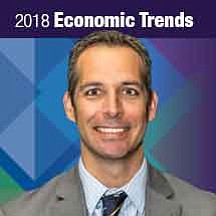 San Diego — Kevin Dusi, Senior Tax Manager with Moss Adams LLP,talked about many aspects of tax reform, including capital expenditures and rethinking trade.
Impacts of Tax Reform:
During Dr. Reaser's economic forecast she said that about 14 percent of people are actually going to see a tax increase as a result of tax reform. Personally, I wouldn't be surprised if we see greater than 14 percent of San Diegans be impacted unfavorably, again if for no other reason than state tax deductions and property taxes, and that's a big deal for us.
From a business standpoint, this is where we see a very big win, even in San Diego, in that now we are bringing the corporate down to 21 percent. Historically it has been very, very difficult for the U.S. to compete on a global scale with tax rates overseas. There has been a lot of concern lately about we're losing jobs to folks in other markets because historically we have been sitting at about 35 percent. Why would we keep that money here? Why would we keep the jobs here?
Now we have brought that down to 21 percent. I think we are going to see a lot of those jobs potentially coming back to the states. We will see more free cash flow so there will be increased spending here in the U.S.
And overall, we're going to see a much healthier active tax law and rely on a lot of our companies, both in the U.S. as a whole, but in particular in San Diego.
Incentives for Capital Investment
The big benefit to CAPEX (capital expenditure) — a lot of the accelerated deductions for appreciation, to really write off in full a lot of the things we buy as we buy them — that will bring a lot of the money that was sitting on the sidelines back into play. That will help other companies that are involved in the manufacture and sale of those.
We will see a similar bottom line on the financial statements, but with a much lower tax number, and that is a plus. For construction, this is a big deal. For our manufacturing and distribution companies, the same thing: CAPEX is going to be a big deal.
I was talking to one of the partners in our construction practice this morning, and, in the last quarter of 2017, because of the way the law was written, we had a client that saved $2 million in actual tax dollars just by these changes in laws allowing for accelerated appreciation.
Prev Next