FINTECH: PLATFORMS SEEN AS COMPLEMENTARY; PLAN TO KEEP S.D. OFFICE
Fintech LoanHero Acquired By Atlanta Co.
Sunday, January 21, 2018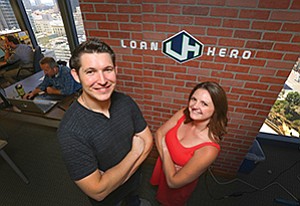 San Diego — The LoanHero platform offers merchants a way to provide customers looking to make a big purchase, from medical procedures to car repairs, an array of loan options.
Atlanta-based LendingPoint uses proprietary technology to create financial portraits of prospective borrowers and use that data to offer online loans to some customers whose credit scores may deter other lenders.
The two emerging companies — both launched in 2014 — have joined forces in a move that expands LendingPoint's origination channels and customer base and the range of customers to which the LoanHero platform will provide loan options.
LendingPoint on Jan. 11 announced it had acquired LoanHero. Terms were not disclosed.
LoanHero, founded by Derek Barclay and Kristin Slink and headed by CEO Zalman Vitenson, spent its initial years in incubation at EvoNexus.
Rory Moore, the incubator's CEO, said LoanHero was the first fintech to be accepted into the Irvine Co.-backed organization, which has offices in San Diego and in Irvine.
"What we were struck by was the depth of knowledge of not only the software, but of the finance industry, that the founding team had," he said.
After about two years at EvoNexus, LoanHero relocated in 2016 to an office in Symphony Towers downtown.
Its connection with LendingPoint dates back to nearly its founding. But while they were part of the same alternative lending universe, formally banding together wasn't a consideration until fairly recently.
VC Backers
It was less than a year ago that LoanHero brought on board a trio of executives with significant experience in financial services to help guide the company as it grew. By then it had taken in more than $7 million in financing from venture capital firms including Alsop Louie Partners in San Francisco and Mucker Capital in Los Angeles.
In April, Vitenson became CEO, although as the company's first angel investor and its executive chairman, he had long been intimately involved.
LoanHero also brought on Olaf Janke as chief financial officer, who in 27 years of experience had raised more than $10 billion of fixed income, $3 billion in equity, and closed merger and acquisition transactions valued at more than $3 billion, according to LoanHero.
And Mikel Sides, who was responsible for more than $65 billion in annual sales revenue in his former role as Citigroup's vice president of client development for co-branded cards, also joined, as vice president of sales.
At the time, Barclay said he wanted to scale the company to become San Diego's first unicorn.
Joining Forces
But a few months ago, a discussion about enabling customers like those to whom LendingPoint loans to use the LoanHero platform turned into talks about how the two teams could blend their respective areas of expertise to attack a larger market together, said LendingPoint cofounder and chief strategy officer, Juan Tavares.
He said the management teams of the two companies found common cause in their focus on profitability, not just volume.
Slink, LoanHero's chief product officer, said as LoanHero grew, its challenge was to find enough lenders to accommodate its customer base.
"What online lenders are doing is spending a lot of dollars with partners, sending out flyers and saying we've got this loan deal for you," Slink said. "Part of (our) strategy was … what lenders are out there that could benefit from deal flow like ours?"
And as LoanHero searched for additional lenders, LendingPoint, a balance sheet lender, looked for avenues through which it could offer its loans to the point-of-sale market.
The acquisition comes at a time when banks are snapping up fintechs, fearful of losing business to innovators.
A 2017 PricewaterhouseCoopers' report on fintech found 88 percent of participants in a global survey of financial services and fintech executives indicated concern about risk to their business due to competition from standalone fintech companies.
And as major financial players have begun directing more attention at companies effecting change in the industry, the point-of-sale market has also drawn more interest.
In an about-face from when LoanHero launched, "banks are really having more of an appetite to get involved," Slink said. "Now people are saying, 'how do I get into that space?' What I've always liked about our business model is we always understand the need for the loan, and we have the ability to create products around that."
Maintaining San Diego Office
For LendingPoint, that knowledge will ease its way into the space, thanks to LoanHero's experience working with merchants looking to increase sales and ticket size by offering loan options to customers, Tavares said.
The combined company, which is maintaining LoanHero's San Diego office, has about 150 employees.
"We were hoping, as we always do, that they would grow into a big company, but as so often occurs, acquisitions do come along," said Moore, at EvoNexus. "Their work ethic was off the charts, and success is a (combination of a) lot of hard work and timing … so we're pleased with what they've done."