DEAL: AAV'S DECISION TO EXIT WAS JUST ONE PART OF THE SALE
Acquisition Shows the Twists, Unexpected Turns of Process
Sunday, January 21, 2018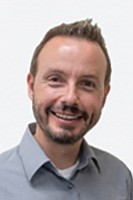 San Diego — Announcement of acquisitions rarely hint at the machinations that sometimes occur behind the scenes of such business deals.
A recent event hosted by the San Diego chapter of the Association for Corporate Growth pulled back the curtain on one such deal.
San Diego-based Anderson Audio Visual (AAV) was acquired just over one year ago by AVI-SPL, a Tampa, Florida-based company.
Getting to that moment for AAV, which was started by brothers Shane and Craig Parkes, entailed traveling a long and winding road.
Shane Parkes and three of AAV's attorneys talked through the experience Jan. 16 at Lomas Santa Fe Country Club in Solana Beach.
For Parkes, the impetus to consider selling was an interest in banking some of the profits made since launching the business.
Exit Time
"We wanted to take some monies off the table," he said. "We had all our eggs in a very large basket and it just made sense from a financial standpoint to look at exiting."
The company, which had $65 million in annual revenues and offices in California, Texas and North Carolina, began talking with potential purchasers in 2015.
Of the dozen that were interested, AAV, which specialized in custom audio visual, data and security system design, selected private equity firm H.I.G. Capital.
"Maintaining the culture at Anderson was very important to us in any deal we put together," he said. "We wanted to make sure our baby was going to a good home when we were looking to sell."
H.I.G. Capital's interest was in acquiring AAV as a platform company — and that was attractive to Parkes, who saw his firm's prospective position as the foundation for a division of sorts as a method to maintaining its cultural DNA.
"That was still the case right until around the point we selected H.I.G. … then the game changed," Parkes said. "H.I.G. had an opportunity to look at what was then the largest AV company in the U.S. (AVI-SPL)."
Your Timeline May Not Matter
That delayed the AAV deal. Lesson one: Don't expect a merger to hew to your ideal timeline.
Soon, AAV was being considered instead as an add-on acquisition to the bigger fish, AVI-SPL, a global AV company.
"It was a real curve ball in the process that we actually thought may derail the whole sale," Parkes said.
As H.I.G. began its due diligence, Parkes said Anderson, which ran a lean operation, was swamped trying to fulfill all the requests for information about the company.
Prev Next