PROFESSIONAL SERVICES
SD 500: Scott Wolfe
Friday, January 19, 2018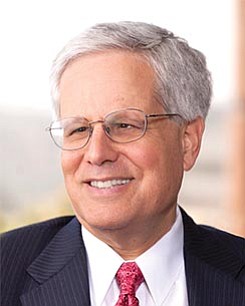 The San Diego 500, The Book of Influential Business Leaders, is the market's most comprehensive product of people you should know in the business community. The 500 includes business leaders and executives who have founded or are running significant companies in terms of number of jobs, key products and services, experts who raise the level of the industry here and beyond and those who lead in the business community. The 500 is selected by the San Diego Business Journal newsroom.
Scott Wolfe
Partner, Latham and Watkins
In 1978, Scott Wolfe became a partner of Latham and Watkins, a law firm which specializes in capital markets, commercial litigation, emerging companies, environmental liability, insurance, IP, M&A, real estate and securities litigation. Wolfe advises startup and emerging businesses and public companies, particularly in life sciences and advanced technology. He was a co-founder and counsel of Alliance for Southern California Innovation, a recently formed nonprofit focused on improving the tech and life sciences ecosystem in Southern California whose members are the leading universities and research institutes based in Southern California. Wolfe, who has been selected for inclusion in The Best Lawyers in America from 1991 to 2017, serves on the boards of life science organization and on the executive committee of Rady Children's Hospital. Wolfe was a minority owner of the San Diego Padres from 1990 to 1999.
ALMA MATER: Harvard University, Harvard Law and Business Schools
TRAVELS: Asheville, North Carolina to visit grandchildren.
ADVICE: "Surround yourself with a great team and make work fun for everyone."
AFTER HOURS: Contemporary art collecting.