LIFESTYLE
SD 500: Mark Neville
Thursday, January 18, 2018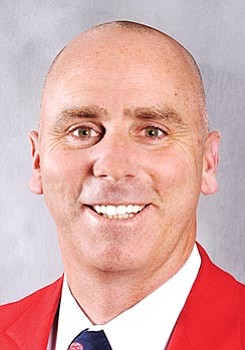 The San Diego 500, The Book of Influential Business Leaders, is the market's most comprehensive product of people you should know in the business community. The 500 includes business leaders and executives who have founded or are running significant companies in terms of number of jobs, key products and services, experts who raise the level of the industry here and beyond and those who lead in the business community. The 500 is selected by the San Diego Business Journal newsroom.
Mark Neville
Executive Director, San Diego Bowl Game Association
Mark Neville began his career as an intern – with the Holiday Bowl. More than 25 years later, he remains with the Holiday Bowl through its organizing committee, the San Diego Bowl Game Association. He also has served as the PA voice of the University of San Diego men's basketball team since 1992. He grew up in Ventura and moved to San Diego to attend UC San Diego. The bowl game association in October is hosting a Navy-Notre Dame game at SDCCU Stadium. The long-term home of the bowl game remains in doubt as the city has said it will close SDCCU Stadium after 2018, and Petco Park has only offered to host the game as an interim solution.
ALMA MATER: University of California, San Diego
BEST ADVICE: Always remember to appreciate and acknowledge the hard work of your team.
TOUGHEST CHALLENGE: The enormous changes to the bowl landscape the past few years.