ICONS - LEGACY
SD 500: Gary and Mary West
Thursday, January 18, 2018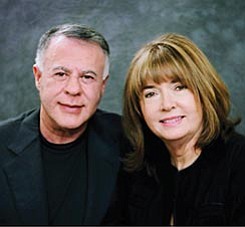 The San Diego 500, The Book of Influential Business Leaders, is the market's most comprehensive product of people you should know in the business community. The 500 includes business leaders and executives who have founded or are running significant companies in terms of number of jobs, key products and services, experts who raise the level of the industry here and beyond and those who lead in the business community. The 500 is selected by the San Diego Business Journal newsroom.
Gary and Mary West
Founders, West Corp., West Health Institute, et al
The Wests were technology pioneers in the telemarketing industry, eventually netting $1.45 billion in 2006 from their stake in West Corp. Since then they have dedicated time and resources to advancing sustainable high-quality health care for seniors with the West empire in Carlsbad – including the West Health Institute, West Health Policy Center, and the Gary and Mary West Foundation, which has awarded about 500 grants worth about $200 million.