TECHNOLOGY
SD 500: Rick Valencia
Wednesday, January 17, 2018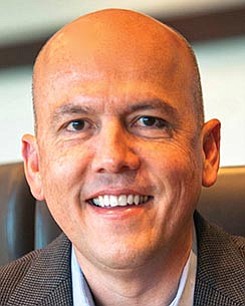 The San Diego 500, The Book of Influential Business Leaders, is the market's most comprehensive product of people you should know in the business community. The 500 includes business leaders and executives who have founded or are running significant companies in terms of number of jobs, key products and services, experts who raise the level of the industry here and beyond and those who lead in the business community. The 500 is selected by the San Diego Business Journal newsroom.
Rick Valencia
President, Qualcomm Life
Rick Valencia is president of Qualcomm Life, which is the technology giant's health care subsidiary. Valencia has more than 25 years of experience in rapid-growth technology firms. Valencia is also active in several other efforts driving wireless health innovation, including the World Economic Forum's Value in Health Initiative and the Qualcomm Tricorder XPrize competition. He is a board member for Pedal the Cause, Big Brothers Big Sisters of San Diego County, CONNECT and MIT Enterprise Forum.
ALMA MATER: California State University of Northridge
FAVORITE TRAVEL SPOT: "The next place I'm going with my wife or family. That happens to be the Amalfi Coast at the moment. But Maui, Hawaii, and Deer Valley, Utah are also family favorites."
FUN FACT: He is in a viral video with more 1.5 million views. (If you're curious, Google "Rick & Stacey's anniversary.")
PERSONAL TRIUMPH: "I had a rough upbringing within a broken family that came from the wrong side of the tracks. With the help of a very loving mother and a Big Brother mentor, I was able to break the cycle and become a productive part of my community."