REAL ESTATE
SD 500: R. Michael Murphy
Wednesday, January 17, 2018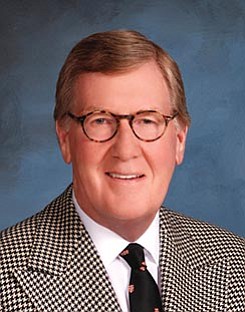 The San Diego 500, The Book of Influential Business Leaders, is the market's most comprehensive product of people you should know in the business community. The 500 includes business leaders and executives who have founded or are running significant companies in terms of number of jobs, key products and services, experts who raise the level of the industry here and beyond and those who lead in the business community. The 500 is selected by the San Diego Business Journal newsroom.
R. Michael Murphy
Founder and President, Murphy Development
Michael Murphy founded Murphy Development in 1984. The company has master planned and/or completed more than 9 million square feet of industrial and technology buildings. It also operates and invests in industrial real estate assets. Its projects include the 2.1 million square foot Siempre Viva Business Park in Otay Mesa; Brown Field Technology Park, which is underway in South County; and a 30.9-acre site in Scripps Ranch that it bought from Intel in 2014. In 2017 it completed five leases totaling 386,401 square feet, including three new leases at The Campus at San Diego Business Park. SDBP was originally built by Murphy Development in the mid '80s. Approximately half of the business park was reacquired earlier this year from the Panasonic Corp. of North America and is undergoing a $15 million renovation. Murphy's service on local boards has included the Scripps Memorial Hospital Foundation, the Bishop's School, and the Greater San Diego Chamber of Commerce.
ALMA MATER: University of Arizona
NOTEWORTHY: After graduate school, he was based in Europe for five years and lived in Scotland, Greece, and West Germany.