PROPERTY: ENCINITAS CENTER SOLD FOR $24M, SEEN AS LONG-TERM INVESTMENT
RAF Finds Coastal Retail Addition for Portfolio
Wednesday, January 17, 2018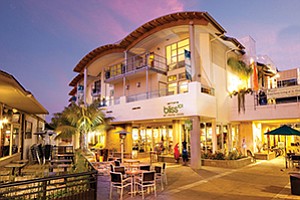 San Diego — A shopping center which Encinitas officials said would inject new life into downtown when it was built has been sold to a prominent developer of North County industrial and commercial property.
RAF Pacifica Group bought the 39,000-square-foot retail portion of the 100,000-square-foot Pacific Station at 687 S. Coast Highway for $24 million.
"Encinitas is an extremely strong market where we continue to find exceptional value. We plan to hold this property long-term," said Adam Robinson, founder and president of RAF Pacifica Group.
"We will plan to do some renovations and updates to the property as leases roll and expire over the next few years," Robinson said.
The center was anchored by Whole Foods, which has closed.
Tenant Roster
Other tenants include Wells Fargo, Amazon and Solace Restaurant, Bliss 101, Bombshell Salon & Boutique, French Nail and Spa, Allegro Coffee Co., and Becker Development.
Encinitas officials hailed the center at 2008 groundbreaking ceremonies as the start of a new era for the city.
Mayor Catherine Blakespear said the sale to RAF Pacifica Group was encouraging.
"RAF Pacifica is considered to be an innovative developer and we anticipate this move to be a positive one for the center and our community," Blakespear said in an email. "We are excited to see how this very popular part of downtown evolves under the new owner."
Craig Killman, executive vice president of the commercial brokerage firm JLL, said Pacific Station is "a good location for the right usage."
"It's got quite a bit of frontage on Pacific Highway," Killman said. "I don't think it's the right location for a large user, like Whole Foods was."
He said smaller shops would be a better fit for the neighborhood and with some of the center's other tenants.
"In that part of Encinitas, the storefront boutique retail does really well," Killman said. "The restaurant scene in that area and the bar scene in that area are really popular. Encinitas has done a great job of creating a space where people can go dine and shop."
Coastal Retail
While retail has been struggling elsewhere, Robinson said that's not the case in coastal areas, such as Encinitas.
"Coastal retail continues to thrive and we see this as a strong opportunity to acquire a high-quality asset in a market that will continue to perform over time," Robinson said.
RAF Pacifica Group's purchase of Pacific Station is part of the company's move to diversify.
"We are definitely open to acquiring more retail properties," Robinson said. "The San Diego market is a core focus for us, and this acquisition is well-aligned with our ongoing strategy in the region. As opposed to diversifying our portfolio by expanding geographically out of San Diego, we are focused on the markets we know and are diversifying our portfolio to incorporate not only office and industrial, but also mixed-use, retail and multifamily."
The company is known for its development of office and industrial property in North County, but Robinson said it also developed Cardiff Reef Apartments in Cardiff-by-the-Sea and several mixed-use projects.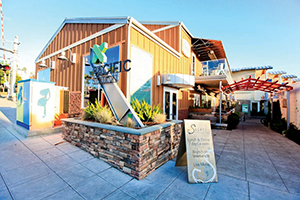 Mixed-Use Preference
"Demand for mixed-use projects is on the rise as lifestyle preferences continue to evolve toward more walkable, community-focused environments," Robinson said. "This is especially true in dense coastal communities such as Encinitas."
The retail portion of Pacific Station was sold to RAF Pacifica Group by Loja Retail Partners. Matt Moser of Retail Insite represented both parties. Residential and office portions of the project were not included in the sale.