LEADING INDUSTRIES
SD 500: Vice Admiral Mike Shoemaker
Tuesday, January 16, 2018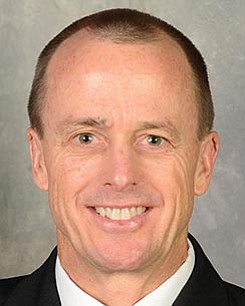 The San Diego 500, The Book of Influential Business Leaders, is the market's most comprehensive product of people you should know in the business community. The 500 includes business leaders and executives who have founded or are running significant companies in terms of number of jobs, key products and services, experts who raise the level of the industry here and beyond and those who lead in the business community. The 500 is selected by the San Diego Business Journal newsroom.
Vice Admiral Mike Shoemaker
Commander, Naval Air Forces, U.S. Pacific Fleet
Vice Adm. Mike Shoemaker's titles are long, but the U.S. Navy unofficially sums them up in two words: Air Boss. He is in charge of Navy aviation. From an office on North Island, his command mans, trains and equips 10 combat-ready aircraft carriers, 10 carrier air wings, 170 aircraft squadrons and more than 100,000 personnel. Getting three stars puts Shoemaker at the pinnacle of his Navy career. Part of his current job involves making the new, Gerald R. Ford-class of aircraft carrier ready for service. As a pilot, Shoemaker has accumulated more than 4,400 flight hours in small military aircraft – the A-7E Corsair and the F/A-18C Hornet – with 1,066 carrier-arrested landings.
ALMA MATER: U.S. Naval Academy, Naval War College, Joint Forces Staff College