LIFESTYLE
SD 500: Peter Seidler
Originally published January 16, 2018 at 7:40 a.m., updated January 16, 2018 at 7:40 a.m.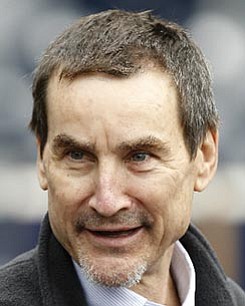 The San Diego 500, The Book of Influential Business Leaders, is the market's most comprehensive product of people you should know in the business community. The 500 includes business leaders and executives who have founded or are running significant companies in terms of number of jobs, key products and services, experts who raise the level of the industry here and beyond and those who lead in the business community. The 500 is selected by the San Diego Business Journal newsroom.
Peter Seidler
Managing Partner, San Diego Padres
Peter Seidler, the nephew of former Dodgers owner Peter O'Malley, is the lead investor in a group that bought the Padres in 2012. Seidler also is founder and partner in Seidler Equity Partners, which has grown from a family office to having more than $1 billion in capital under management. Seidler in the past year has taken a high-profile role, along with restaurateur Dan Shea, in trying to engage the business community in helping reduce homelessness. The Padres ownership group included his brother, Tom Seidler, and cousins Brian and Kevin O'Malley. Ron Fowler is the group's executive chairman.
ALMA MATER: University of Virginia (BA), UCLA (MBA)
TOUGH CHALLENGE: Overcoming Type 1 Diabetes and cancer.
ADVICE: Find mentors (younger and older) who can help you grow creatively.
FUN FACT: He typically goes to sleep around 4 a.m.