HEALTH & SCIENCE
SD 500: Patty Maysent
Tuesday, January 16, 2018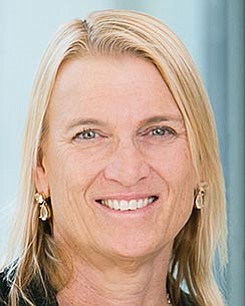 Patty Maysent
CEO, UC San Diego Health
Patty Maysent oversees more than 7,500 team members and budgeting in excess of $1.7 billion. Maysent was part of the UC San Diego Health executive team that in 2016 opened the Jacobs Medical Center, a 245-bed, 10-story advanced medical center, named in recognition of a $75 million gift from the Joan and Irwin Jacobs family. Previously, Maysent served as CEO of St. Jude Medical Center and as a consultant for University of Southern California's Keck Medical Center and Alliance Healthcare Services.
ALMA MATER: Stanford University, MBA from University of California, Los Angeles
FAVORITE: Pipes Café in Cardiff.
ADVICE: "It's always important to be inquisitive and willing to learn, to be focused, disciplined and resilient. And to know how to weather challenges all within the context of work-life balance."
AFTER HOURS: Enjoys swimming, surfing and paddle boarding.
OUTREACH: Participates in American Heart Association walks, has worked with the Juvenile Diabetes Fund, Donate Life, and supports Pedal the Cause, which helps raise money to fund cancer treatment and research through UC San Diego's Health Moores Cancer Center.