MONEY
SD 500: Chris Marsh
Tuesday, January 16, 2018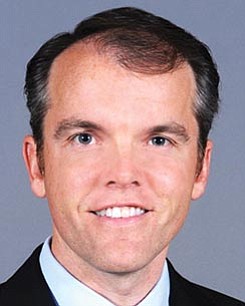 The San Diego 500, The Book of Influential Business Leaders, is the market's most comprehensive product of people you should know in the business community. The 500 includes business leaders and executives who have founded or are running significant companies in terms of number of jobs, key products and services, experts who raise the level of the industry here and beyond and those who lead in the business community. The 500 is selected by the San Diego Business Journal newsroom.
Chris Marsh
Managing Director, UBS Financial Services
Chris Marsh has been involved in many aspects of the financial services industry, starting as a tech analyst for banks and thrifts at SNL Securities in Virginia. He worked as a technology analyst and technology manager until he joined UBS in 2002, where he has focused on areas such as family governance, financial planning and technology, both here and abroad. He oversees the San Diego office, which has about $12.2 billion in assets under management and more than 500 household clients.
ALMA MATER: University of Virginia
FUN FACT: Granted a patent for developing a messaging system in a networked computer system while working with a team at UBS.