MONEY
SD 500: Ashish Masih
Tuesday, January 16, 2018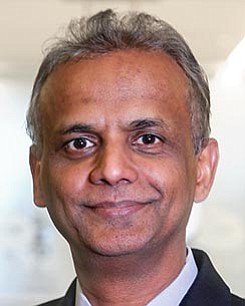 The San Diego 500, The Book of Influential Business Leaders, is the market's most comprehensive product of people you should know in the business community. The 500 includes business leaders and executives who have founded or are running significant companies in terms of number of jobs, key products and services, experts who raise the level of the industry here and beyond and those who lead in the business community. The 500 is selected by the San Diego Business Journal newsroom.
Ashish Masih
CEO, Encore Capital Group
Ashish Masih was named president and CEO of Encore Capital Group, which buys and sells credit card debt, in June 2017. Previously Masih had headed Encore's U.S. business unit, the company's largest business. He joined the company in 2009, and led his team to help mitigate rising credit card losses during the financial crisis. Prior to joining Encore, Masih was vice president at Capital One Financial Corp., an associate principal at McKinsey & Co. and a manager at KPMG Consulting. Encore has launched a program to teach area high school and community college students about the importance of credit, credit scores and smart money management.
Alma mater: Indian Institute of Technology; Lehigh University; The Wharton School
BUCKET LIST: Travel various countries across the world for a year.
FAVORITE: George's at the Cove.
FUN FACT: He is learning to play the piano.
BUSINESS ADVICE: "Focus on things you can control, try to influence others in other areas, and not worry about things you cannot control. In other words, do your job, deliver the results and let the rest follow."