Rancho San Diego Lot Sells for $2.6M
Tuesday, January 16, 2018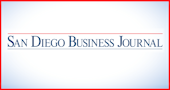 A 283,140 square-foot Rancho San Diego lot near Rancho San Diego Town Center has been sold for $2.6 million.
The buyer was Frontera Real Estate, which plans to redevelop the 11902 Campo Road property into a 110,000 square-foot self-storage business.
The lot now contains a trucking school and a single-family residence.
The seller was Fass Properties, Inc. Buyer and seller were represented by Arby Eivazian of Apartment Consultants Inc.