PROPERTY: RENTS UP, VACANCY RATE DOWN; MORE PROJECTS COMING
Mission Valley Changes Work for Office Sector
Tuesday, January 16, 2018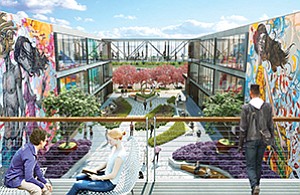 San Diego — Mission Valley is hot.
As a place for office and apartment development, Mission Valley had never really been cold, but with two plans facing off for redevelopment of the former Qualcomm Stadium and renovation of the former San Diego Union-Tribune building nearing completion, some brokers said it's drawing even more attention.
"This is arguably the most competitive office leasing market in the county," said Derek Applbaum, first vice president of Colliers International San Diego.
Vacancy rates have dropped below 10 percent, and the rents property owners are seeking are at or have exceeded what they were before the recession in 2006 or 2007, Applbaum said.
Competing proposals from San Diego State University and La Jolla-based FS Investors' SoccerCity for redevelopment of the 233-acre stadium site "has really heated up the conversation and the PR (public relations) on the Mission Valley market," said Richard Gonor, executive vice president of the brokerage firm JLL.
Both proposals are slated to go before voters on the November ballot. If voters approve both projects, the one with the most votes wins.
Regardless of which plan wins, "new development on that site is going to be a great thing for Mission Valley," said Matt Carlson, senior vice president of CBRE.
Further heightening interest is the $35 million renovation of the former Union-Tribune building, renamed Ampersand, at Interstate 8 and state Route 163, along with the ongoing development of Civita, a 230-acre community master-planned by Sudberry Properties.
Most recently, The New Home Co. in July announced plans for a 133-unit development dubbed Promontory at Civita. The project will include one-story and three-story attached homes.
Plans also have started to gel for the redevelopment of the 200-acre Riverwalk golf course.
The $2 billion golf course redevelopment calls for about 4,000 housing units, up to 1 million square feet of office space, and an 80-acre river park.
The two-building Ampersand complex, which includes a five-story office tower, is due for completion in the second quarter of 2018.
Modernization in the Market
"I think this is all good," said Applbaum. "The market is one of the oldest submarkets in the county. To see some modernization to the market is going to be helpful."
With demand high, building owners are upgrading their Mission Valley property, leading to what some brokers said is a gentrification of office space as landords remodel older buildings — a trend that's likely to continue.
Like redevelopment of the stadium site, Riverwalk is several years away, but several smaller projects also are in the works, said Kevin Mulhern, a senior vice president of CBRE who specializes in multifamily property.
Projects cited by Mulhern include a 309-unit project by The Dinerstein Cos. — Millennium Mission Valley — on Camino Del Rio North, a 284-unit planned by Trammell Crow Residential, and a 300-unit complex still in the early planning stages across from Fashion Valley mall.
Several small Mission Valley properties also have changed hands recently.
"There's quite a bit happening," said Carlson of CBRE, which is handling Ampersand leasing.
"A lot of people have targeted Mission Valley as kind of a renaissance office opportunity."
The Apartment Market
Just as Mission Valley is attractive for office rentals, it's also a hot market for apartments and condominiums.
As rental rates for downtown apartments have increased, Mission Valley as one of the region's most urban submarkets, is becoming the place to go, especially for millennials, who want an urban environment with lots of dining and entertainment venues.
"It seems like a lot of the renters, particularly the younger part of the demographic, they don't want to live in suburbia, they want action," said CBRE's Mulhern.
Mission Valley also is attracting people from Pacific Beach and Ocean Beach, where apartment rentals are getting pricier.
The Traffic Problem
Some say one potential drawback to Mission Valley could be traffic.
"The biggest challenge is the access in and out of the (Mission Valley) market with individual cars, how is that going to be affected," said Applbaum of Colliers. "That's really the biggest question, how is transportation going to work in and out of the market in the future?"
The answer, Applbaum said, is likely to be more reliance on public transportation with easy access to the trolley and development of driverless cars.
"That is where I think we're going to be headed," Applbaum said.
Traffic always is a concern, but Mulhern said the trolley gives Mission Valley a big advantage over other submarkets, where public transportation is limited or unavailable.
That advantage will increase when the trolley line is extended to University City, giving people who live in Mission Valley more options for getting to work and school.
"That's going to be huge," Mulhern said.