Armed With $100M, Former Receptos Executives Launch New Biotech
Originally published January 14, 2018 at midnight, updated January 14, 2018 at midnight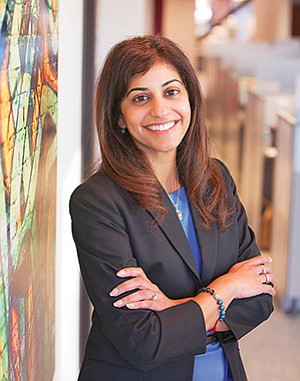 San Diego — In 2015, San Diego's Receptos sold to Celgene for $7.2 billion. Rather than take it easy or go their separate ways, two Receptos' executives immediately talked of getting the band back together.
They recently debuted a new company, Gossamer Bio.
"Obviously that was a very fortunate event, and we were very happy to have Celgene acquire the programs because of their really excellent track record in commercialization and development. But it was also kind of a letdown, because we had assembled this great team and we wanted to continue," said Sheila Gujrathi, Gossamer's COO, and previously Receptos' chief medical officer.
Gujrathi teamed up with Faheem Hasnain, Gossamer's chairman and CEO, and formerly the head of Receptos. Their company has a $100 million war chest, courtesy of a seed round of capital from Omega Funds, as well as a Series A round co-led by Arch Venture Partners and Omega Funds.
Well Funded
"That allows us to hit the ground running, be able to execute on potentially parallel development programs for our lead asset, and also to do the right type of discovery and development work for all of our assets.
We really focused on making sure we had appropriate financing right out of the gate," Gujrathi said.
She said an initial public offering is possible down the line.
"That's definitely a very natural progression for us. We'll be looking at when's the best time to go public, and in what manner," Gujrathi said.
Receptos became a multibillion company largely on the promise of ozanimod, intended to treat relapsing multiple sclerosis. At the time of acquisition it had 68 employees.
So what will be Gossamer's focus?
A press release announcing the company had little in the way of details on its drug portfolio and the disease areas it's targeting. There were only vague phrases like "novel and differentiated therapeutic products, aimed at "various targeted patient populations."
Autoimmune Target
Gujrathi did provide a few additional details, including that its lead program, soon to enter a late-stage — 2b/3 — clinical trial, is aimed at an autoimmune disease.
"We do think it has the promise to go into multiple disease areas, similar to what we did at Receptos," she said. Looking at the company's larger portfolio and interests, Gujrathi mentioned immunology, fibrosis, oncology and degenerative diseases, and both developing and acquiring potential drug assets.
"It's nice to have found a few clinical assets that we've secured and are in negotiations around, because we can then hopefully get these therapies to patients quicker because they're already in clinical trials," she said.
More details will be revealed in the first half of this year, she said.
Gossamer's company name sticks out among biotechs, often named to evoke a therapeutic emphasis. The word "gossamer" — a film of cobwebs — strikes at the company's intended culture.
"Gossamer represents that weave of connections interpersonally, where you look to strengthen that connection over time," Gujrathi said.