PROFESSIONAL SERVICES
SD 500: Ronson J. Shamoun
Wednesday, January 10, 2018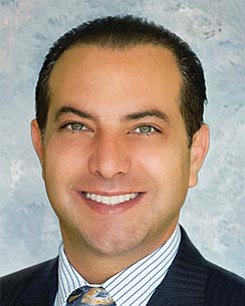 The San Diego 500, The Book of Influential Business Leaders, is the market's most comprehensive product of people you should know in the business community. The 500 includes business leaders and executives who have founded or are running significant companies in terms of number of jobs, key products and services, experts who raise the level of the industry here and beyond and those who lead in the business community. The 500 is selected by the San Diego Business Journal newsroom.
Ronson J. Shamoun
CEO, Principal, RJS Law
Ronson Shamoun founded RJS Law, a firm which focuses on tax law, in 2003. RJS Law has three offices nationwide, including eight local lawyers. His practice involves federal and state taxation with an emphasis in criminal tax defense, tax controversy, real estate, corporate law and estate planning. In 2017, RJS Law was named a Best of the Bar by the San Diego Business Business Journal. Shamoun, a third-year law professor at his alma mater, the University of San Diego, was recently awarded the USD Law School Distinguished Alumni Award. He is active in numerous civic groups, including the San Diego East County Chamber of Commerce, the San Diego Regional Chamber of Commerce and San Diego Downtown Partnership. Shamoun also co-founded with the University of San Diego Law School the USD LAW-RJS LAW Tax Controversy Institute.
ALMA MATER: University of San Diego
TRAVEL: Has visited Costa Rica.
ADVICE: "Being on time is being late."
OUTREACH: Supports the Girl Scouts, American Diabetes Association and United Way.