LIFESTYLE
SD 500: Phil Pace
Wednesday, January 10, 2018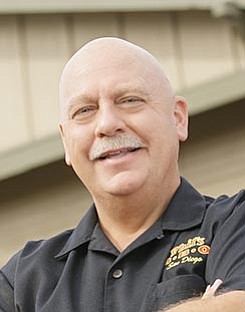 The San Diego 500, The Book of Influential Business Leaders, is the market's most comprehensive product of people you should know in the business community. The 500 includes business leaders and executives who have founded or are running significant companies in terms of number of jobs, key products and services, experts who raise the level of the industry here and beyond and those who lead in the business community. The 500 is selected by the San Diego Business Journal newsroom.
Phil Pace
Chairman, President and CEO, Phil's BBQ
Since 1998, barbecue lovers in San Diego County have counted on restauranteur Phil Pace to satisfy cravings for mesquite grilled ribs, chicken and sausages. His restaurants serve thousands of customers every day, from people who arrive on skateboards to people who arrive in Bentleys. The restaurant grew from four employees at the former Mission Hills location to well over 400 at its Point Loma, San Marcos, Santee, Rancho Bernardo, Petco Park and San Diego International Airport locations, where people often wait in lines for the huge portions served in a friendly atmosphere.
ENJOYS MOST: He loves making a positive impact on the community and making people happy with food.
PROUDEST MOMENT: Seeing the impact we make on children in need through the charities we support.
BEST ADVICE: "Be true to yourself, be consistent. If you only worry about money, it won't come."
FUN FACT: He has opened a nonprofit horse rescue called ResQue Ranch.