CIVIC
SD 500: Clifford Rippetoe
Wednesday, January 10, 2018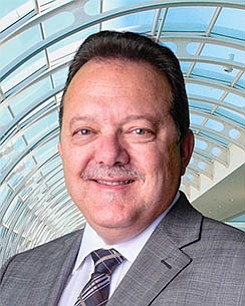 The San Diego 500, The Book of Influential Business Leaders, is the market's most comprehensive product of people you should know in the business community. The 500 includes business leaders and executives who have founded or are running significant companies in terms of number of jobs, key products and services, experts who raise the level of the industry here and beyond and those who lead in the business community. The 500 is selected by the San Diego Business Journal newsroom.
Clifford Rippetoe
President and CEO, San Diego Convention Center Corp.
Clifford "Rip" Rippetoe is president and CEO of the San Diego Convention Center Corp. He came to the post in 2016 from Louisville. His previous experience in the convention and trade show industry includes working on the Olympic Winter Games of 2002, the Las Vegas Convention Center and Utah's Salt Palace Convention Center. Under Rippetoe's leadership, the San Diego Convention Center achieved two significant honors. First, it was named a LEED Gold facility by the USGBC. The second was receiving the Venue Excellence Award, which is given by the International Venue Management Association to only five venues comprised of convention centers, theatres, arenas, stadiums and amphitheaters in over 20 countries.
ALMA MATER: Oklahoma State University
CIVIC INVOLVEMENT: International Association of Venue Managers, Economic Development Corp. of San Diego, and the Downtown San Diego Partnership.
BUCKET LIST: Visit the remaining four states to complete all 50.
HOBBY: Theology and church work.