RADIO: SLACKER'S REVENUE HAS BEEN IN STEADY DECLINE
LiveXLive Media Closes Acquisition of Slacker
Wednesday, January 10, 2018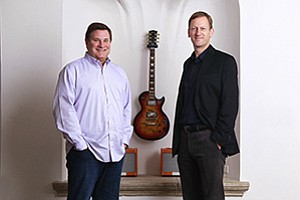 San Diego — LiveXLive Media Inc. of Beverly Hills closed its acquisition of Slacker Inc., the Rancho Bernardo internet music provider, in late December.
The move came after LiveXLive (OTC: LIVX) raised $17.65 million in a stock offering on Dec. 27. The stock transaction was a condition for the acquisition to close.
In September, LiveXLive (pronounced "Live by Live") announced plans to acquire Slacker for $50 million in cash and stock. Slacker is expected to remain in San Diego and integration of the two companies is expected soon.
LiveXLive — known as Loton Corp. until the middle of 2017 — bills itself as one of the only premium networks devoted to live music and music-related video content. It acquired another business called Wantickets in 2017. Robert Ellin is CEO.
Founded in 2007
Slacker was founded in 2007; its investors included Rho Capital, Columbia Capital, Centennial Ventures and Mission Ventures. The business collected a total of $75.7 million in venture funding and debt financing, including a $40 million Series B round in 2007, according to Crunchbase.
The business's revenue comes from subscription fees, advertising and one-time contractual payments. The service appears as a line item on some mobile phone bills.
Slacker offers personalized radio programming at three membership levels. A premium membership offered at $9.99 per month includes an on-demand service. A deluxe membership (called Plus) costs $3.99 per month. Both memberships have no advertising. A radio service that serves advertising is offered free of charge.
Duncan Orrell-Jones took over as Slacker's CEO in February 2014, replacing Jim Cady. Jones previously worked at Nintendo of America Inc. and The Walt Disney Co. At the time, Slacker said it had been doubling its business every year since 2010.
That growth period appears to be over. LiveXLive securities filings offer a window into Slacker's time as a private company.
The Numbers
Slacker's net loss attributable to common shareholders was $10.5 million for the year ended Dec. 31, 2016, according to the securities filing.

For the first nine months of 2017, Slacker reported a net loss of $8.5 million. Full-year financial statements are not yet available.
Revenue went from $45.3 million in 2015 to $36.7 million in 2016.
For the first nine months of 2017, revenue was $19.9 million, compared with $29.6 million in the first nine months of 2016. During that time, Slacker lost two third-party distribution agreements.
Advertising revenue fell 62 percent, from $8.6 million in the first nine months of 2016 to $3.2 million in the same period of 2017.
Radio subscription revenue fell 9 percent from $18.4 million in the first nine months of 2016 to $16.7 million in the same period of 2017.
Slacker collected license fee revenue of $2.5 million in the first nine months of 2016 and collected none in the same period of 2017.
The business reported $1.04 million in cash and $6.13 million in total assets as of Sept. 30.
In July, Slacker's accounting firm said there was "substantial doubt" about the business' ability to continue as a going concern. Slacker had accumulated a deficit of $143.9 million, according to the analysis by Mayer Hoffman McCann P.C. and reprinted in a recent prospectus.
Orrell-Jones said that in recent months, Slacker has gone through little money.
Tough Business for Small Cos.
The competitive environment of the past two years has been a challenge to smaller internet music businesses, said Russ Crupnick, a New York-based analyst who runs MusicWatch.
Even growth at the "800-pound gorilla," Pandora Media Inc., has flattened out in the last year or so, he said.
Slacker had less than 1 percent of total streaming share during the third quarter of 2017, Crupnick said. Pandora, by contrast, had a 27 percent share, Alphabet Inc.'s YouTube had 24 percent and Spotify AB had 18 percent.
Crupnick's audio-census service collects information on people's music listening habits. Specifically the company measures average weekly listening hours by format (which can be streaming, CDs, radio or some other format) and service.
Technology behemoths such as Apple, Amazon and Google have also been diving into the market, the analyst said.