EDUCATION
SD 500: Pradeep Khosla
Tuesday, January 9, 2018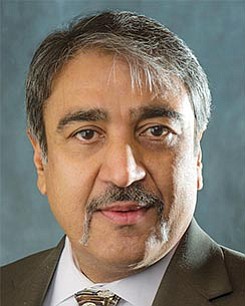 The San Diego 500, The Book of Influential Business Leaders, is the market's most comprehensive product of people you should know in the business community. The 500 includes business leaders and executives who have founded or are running significant companies in terms of number of jobs, key products and services, experts who raise the level of the industry here and beyond and those who lead in the business community. The 500 is selected by the San Diego Business Journal newsroom.
Pradeep Khosla
Chancellor, UC San Diego
Pradeep K. Khosla has been chancellor of UC San Diego since 2012, leading a campus with more than 35,000 students, six undergraduate colleges, five graduate and professional schools, and the Scripps Institute of Oceanography. Khosla has initiated and led a strategic planning process to unify the campus and define its future, including a massive expansion of facilities and residential units. Khosla is an internationally recognized electrical and computer engineer who previously served as Carnegie-Mellon University's dean of engineering, rising through the ranks from an assistant professor. He is active in groups that promote and advance engineering and electronics knowledge and has been honored with a lifetime achievement award from the American Society of Mechanical Engineers, among many honors and awards.
ALMA MATER: Carnegie Mellon University
DRIVES: Jaguar
FAVORITE TRAVEL SPOT: Sydney, Australia
BUSINESS ADVICE: "Love what you do and do what you love."