HEALTH & SCIENCE
SD 500: Gregory Lucier
Tuesday, January 9, 2018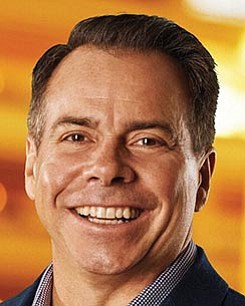 The San Diego 500, The Book of Influential Business Leaders, is the market's most comprehensive product of people you should know in the business community. The 500 includes business leaders and executives who have founded or are running significant companies in terms of number of jobs, key products and services, experts who raise the level of the industry here and beyond and those who lead in the business community. The 500 is selected by the San Diego Business Journal newsroom.
Gregory Lucier
Chairman and CEO, NuVasive Inc.
Gregory Lucier is chairman and CEO of NuVasive, which specializes in medical devices for the spine and has grown to $1 billion in revenues for 2017. NuVasive is expanding its Sorrento Valley headquarters by 100,000 square feet, including creating an innovation center to showcase the company's efforts in training surgeons in its latest spine surgery procedures. NuVasive recently opened a new international headquarters in Amsterdam, Netherlands, and finished a new 180,000-square-foot manufacturing center in Ohio. Also in 2017, the company announced that it acquired Vertera Spine, a privately-held medical device company, and launched a 3-D printed titanium implant product. Lucier also serves on the board of directors of Sanford Burnham Prebys Medical Discovery Institute, Catalent Corp. and Invuity. Prior to NuVasive, Lucier was chairman and CEO of Life Technologies and its predecessor companies from 2003 to 2014. He was also a corporate officer at General Electric.
ALMA MATER: Pennsylvania State University, MBA from Harvard University
CHARITABLE WORK: Padres Pedal the Cause.
FAVORITE TRAVEL SPOT: Queenstown, New Zealand.
BUSINESS ADVICE: "Don't talk about yourself. Enough of that will be done when you aren't around."