LIFESTYLE
SD 500: Elvin Lai
Tuesday, January 9, 2018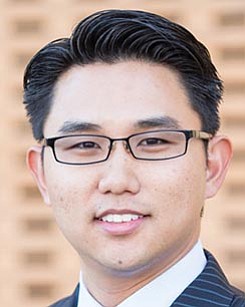 The San Diego 500, The Book of Influential Business Leaders, is the market's most comprehensive product of people you should know in the business community. The 500 includes business leaders and executives who have founded or are running significant companies in terms of number of jobs, key products and services, experts who raise the level of the industry here and beyond and those who lead in the business community. The 500 is selected by the San Diego Business Journal newsroom.
Elvin Lai
CEO and CFO, Ocean Park Inn Hotel
Elvin Lai is CEO and president of Ocean Park Inn Hotel in Pacific Beach. He is also CFO and co-founder of HOTELbeat Inc., a web-based hotel efficiency optimization system focused on simplifying the most tedious tasks required to run a hotel. Finally, Lai is CFO and co-founder of Abnormal Company Inc., a beer, wine and food company that recently opened a new franchise in South Korea, called Abnormal Taphouse and Cantina in Haeundae Beach, Busan. Abnormal exports beer to three countries and continues to add on new importers. Other recent accomplishments include the addition of a cold storage warehouse for anticipated future growth of Abnormal beer operations.
ALMA MATER: University of San Diego
CHARITABLE WORK: Founded and co-chairs PB Clean and Safe Program, which provides security for the business district and jobs for the homeless.
FUN FACT: "I play chess with myself when I am trying to find solutions or understand all possible and impossible outcomes for any scenario."
BUSINESS ADVICE: The key to success is grit: A person must have courage, resolve and strength of character. "