HEALTH & SCIENCE
SD 500: Ciara Kennedy
Tuesday, January 9, 2018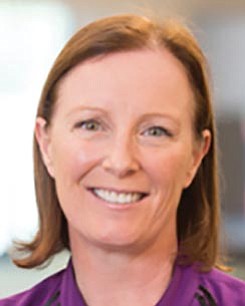 The San Diego 500, The Book of Influential Business Leaders, is the market's most comprehensive product of people you should know in the business community. The 500 includes business leaders and executives who have founded or are running significant companies in terms of number of jobs, key products and services, experts who raise the level of the industry here and beyond and those who lead in the business community. The 500 is selected by the San Diego Business Journal newsroom.
Ciara Kennedy
President and CEO, Amplyx Pharmaceuticals
Ciara Kennedy is the president and CEO of Amplyx Pharmaceuticals, a privately-held biotechnology company in San Diego. She was appointed to these roles in early 2017, and previously served as the company's chief operating officer. Kennedy played a key role in raising more than $116 million in venture capital financing for Amplyx, including a $67 million deal that closed in August. Before Amplyx, Kennedy served as chief operating officer at Lumena Pharmaceuticals until the company was acquired by Shire Pharmaceuticals in June 2014. There, Kennedy played a critical role in the development of assets licensed from Pfizer and Sanofi, raising $78 million from venture capital to fund operations and preparing to take the company public.
ALMA MATER: Rady School of Management at UCSD, Queen's University of Belfast, Northern Ireland
GOOD READS: Kennedy is a big fan of Sheryl Sandberg's book "Lean In." "As I read it I felt like parts of it were written about me," she told networking group Lean In Belfast. "I am a strong advocate of the ethos of Leaning In for everyone and truly owning where you are in life."