TECHNOLOGY
SD 500: Stephan Goss
Monday, January 8, 2018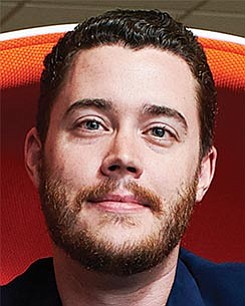 The San Diego 500, The Book of Influential Business Leaders, is the market's most comprehensive product of people you should know in the business community. The 500 includes business leaders and executives who have founded or are running significant companies in terms of number of jobs, key products and services, experts who raise the level of the industry here and beyond and those who lead in the business community. The 500 is selected by the San Diego Business Journal newsroom.
Stephan Goss
CEO, Zeeto
Zeeto was founded in 2010 by 22-year-old entrepreneur Stephan Goss. Today the service-as-software firm, specializing in registration marketing, employs nearly 100 people. The company asks customers more than a million a questions a day as part of its processing for helping companies become more efficient with conversions. Zeeto has made Inc. 5000's fasting growing companies list multiple times. It recently opened an office in Manhattan. Goss is a past recipient of the SDBJ "Most Admired CEO" award, and also has been a local finalist for EY Entrepreneur of the Year.
ALMA MATER: University of Albany
EMPLOYEE FOCUSED: Zeeto is frequently honored among best places to work in part for its many perks and employee-focused culture.
HOBBIES: Polo, collecting (and drinking) fine wine, and fine dining.
WELL SPOKEN: He is fluent in English, German, Swiss German and proficient in French.