LEADING INDUSTRIES
SD 500: Scott Forney
Monday, January 8, 2018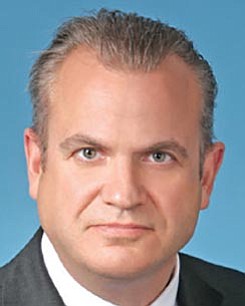 The San Diego 500, The Book of Influential Business Leaders, is the market's most comprehensive product of people you should know in the business community. The 500 includes business leaders and executives who have founded or are running significant companies in terms of number of jobs, key products and services, experts who raise the level of the industry here and beyond and those who lead in the business community. The 500 is selected by the San Diego Business Journal newsroom.
Scott Forney
President, General Atomics Electromagnetic Systems Inc.
Scott Forney leads the electromagnetic systems unit of General Atomics at a pivotal time. The business specializes in storing large amounts of energy and releasing it in tools such as aircraft carrier catapults and weapons such as railguns. In the last 18 months, Forney and his team have introduced a novel aircraft catapult and arresting gear for the new, redesigned Gerald R. Ford class of U.S. Navy aircraft carriers. Two more carriers are scheduled to get the technology, despite challenges from Navy officials who feel more comfortable with established steam and hydraulic equipment.
ALMA MATER: U.S. Merchant Marine Academy