PROFESSIONAL SERVICES
SD 500: Michael Fuller
Monday, January 8, 2018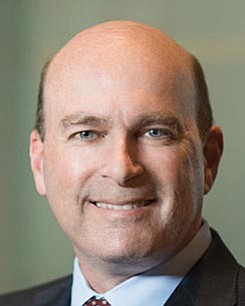 The San Diego 500, The Book of Influential Business Leaders, is the market's most comprehensive product of people you should know in the business community. The 500 includes business leaders and executives who have founded or are running significant companies in terms of number of jobs, key products and services, experts who raise the level of the industry here and beyond and those who lead in the business community. The 500 is selected by the San Diego Business Journal newsroom.
Michael Fuller
Partner, Knobbe Martens Olson & Bear LLP
Mike Fuller is the co-managing partner of Knobbe Martens Olson & Bear's SanDiego office and the chairman of the law firm's biotechnology practice group. He has more than two decades of intellectual property experience and a unique technological background with his undergraduate and graduate science studies. He represents a diverse group of clients in high stakes – and often contentious – intellectual property matters for biotech and high-tech companies. His current clients are developing cellphones, ultracapacitors, 3-D modeling software, web systems and services, medical devices, gene arrays, bioinformatics, medical diagnostics and therapeutic monoclonal antibodies. Fuller was recognized in the San Diego Super Lawyers lists for his work in intellectual property law (2015-2017).
ALMA MATER: University of California, Los Angeles (B.S., M.S. Biology). University of San Diego School of Law
TOUGHEST : Working with people who are unreasonable : or unfair.
BEST ADVICE: Never sacrifice your reputation. You will need it to stay for the long term.