CIVIC
SD 500: Irma Cota
Monday, January 8, 2018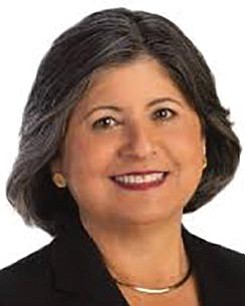 The San Diego 500, The Book of Influential Business Leaders, is the market's most comprehensive product of people you should know in the business community. The 500 includes business leaders and executives who have founded or are running significant companies in terms of number of jobs, key products and services, experts who raise the level of the industry here and beyond and those who lead in the business community. The 500 is selected by the San Diego Business Journal newsroom.
Irma Cota
President and CEO, orth County Health Services
Irma Cota is president and CEO of North County Health Services, which has a staff of more than 700, a budget of more than $60 million and serves more than 62,000 people at 11 locations each year. After 20 years leading the North County Health Services, Cota recently announced that she's retiring from NCHS in 2018. She was appointed in 1997 and has experience in both the public and private sector. She has been recognized as a Latino Healthcare Champion, a San Diego County Public Health Champion, and other prestigious awards. In 2016, she was honored with the Cesar Chavez Award.
ALMA MATER: San Diego State University (B.S., Community Health Science; M.S., Public Health)
FIRST JOB: She traveled California with her sister, mom and aunt, picking broccoli, carrots and strawberries. As one of the few who spoke English, she became a translator.
EARLY ENCOURAGEMENT: A friend of her sister's encouraged her to carpool to Imperial Valley College. The dean paid for her transfer application to San Diego State.