ICONS
SD 500: Deepak Chopra
Monday, January 8, 2018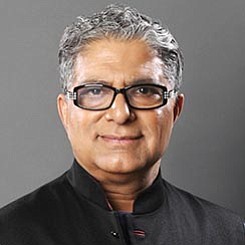 The San Diego 500, The Book of Influential Business Leaders, is the market's most comprehensive product of people you should know in the business community. The 500 includes business leaders and executives who have founded or are running significant companies in terms of number of jobs, key products and services, experts who raise the level of the industry here and beyond and those who lead in the business community. The 500 is selected by the San Diego Business Journal newsroom.
Deepak Chopra
Founder, The Chopra Center for Wellbeing
Chopra co-founded the Chopra Center for Wellbeing in Carlsbad in 1996 and is known as a pioneer of integrative medicine, which recommends mixing mainstream Western medicine and alternative treatments. He has written dozens of books, including a number of New York Times bestsellers and is a volunteer professor at UC San Diego School of Medicine.