Simplexity Brings Hands-On Help To Entrepreneurs and Startups
Originally published January 7, 2018 at midnight, updated January 7, 2018 at midnight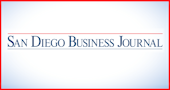 San Diego — p
Most venture capital firms want a founder to have more than an idea before they pony up.
That's not necessarily so at San Diego's Simplexity Holdings, the venture capital arm of which welcomes entrepreneurs with nothing more than an idea scribbled on a napkin. (Of course, having previously built and sold a similar company helps.)
The firm's four general partners have each started companies from scratch — multiple times.
"It's quite unique to take an idea and just sort of force it into existence, and then grow it until you have a successful exit," said Raymond Watt, a Simplexity partner.
The firm formed in 2016 through the union of two locally-based investment groups: Entry Ventures and the Team Group, each of which launched separately in 2013.
San Diego entrepreneur Michael J. Slater and Watt, a tech entrepreneur who moved from his native South Africa to San Diego in 2011 after the latest in a string of successful exits, started Entry Ventures. Slater had recently sold his company, Nik Software Inc. — best known for photo editing application Snapseed - to Google.
"I decided at that point not to start and run a business anymore, but to see if I can influence others in doing so," Watt said.
That same year, serial entrepreneurs and longtime business partners Cliff Boro and Tom Broadhead started the Team Group, a venture studio firm with an atypical side business that provided accounting and other services to startups. They had recently sold the software company they founded together, Zui.com, to Los Angeles-based holding company Saban Brands. Previously they started and sold tech company InfoGate to what was then AOL, now Oath.
The services side of the business started as a way to support the Team Group's "startup habit," Boro said: he and Broadhead didn't raise outside money until joining forces with Entry Ventures.
Frederick Morrison, another entrepreneur from South Africa, joined Simplexity as general partner in 2017, along with Watt, Boro and Broadhead. (Founder Slater is chairman.) The company's businesses are Simplexity Ventures, its fund, and Simplexity Services.
Because of the partners' areas of expertise, Simplexity's venture arm focuses on making bets on startups in the financial technology, enterprise software-as-a-service and health care technology sectors.
In addition to what it calls "napkin-stage" companies, the firm's other niche is startups looking to scale. In the firm's parlance, those are "moving ladder" companies, in that funding could help move such a company's hypothetical ladder against a bigger wall. One such company in the firm's portfolio is Agentology, a real estate lead qualification service based in San Diego that raised $4.5 million in Series A financing in 2017 with participation from Simplexity, then still called Entry Ventures Group.
Regardless of a startup's stage of development, investments come with hands-on involvement from the firm's partners, who take zero management fees but half of any investment profits. Typically, VC firms take 2 percent of money invested for operations, plus 20 percent of investment profits. Simplexity says the structure is intended to reduce risk for its investors.
"One of my partners or I typically talk to our entrepreneurs daily," Boro said. "We're shrinks, we're problem solvers —we're not (just) showing up at VC board meetings every two months."
Of course, with increased risk comes potentially greater rewards for its partners.
In the meantime, as its portfolio companies develop, Simplexity Services keeps the lights on. More than 100 startups, most of which are based in Silicon Valley, are clients, according to Boro.
Simplexity's first fund totaled $5 million. From it the firm has so far invested in six startups.
With its initial, relatively small fund, Simplexity wanted to prove its thesis. "We feel comfortable that we have," Watt said.
This year, the firm plans to raise a second, larger fund.