New TCA President Sees Need for Speed, Innovation in Seed Round
Sunday, January 7, 2018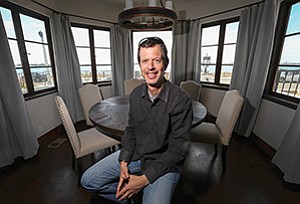 San Diego — The San Diego chapter of Tech Coast Angels, one of the largest networks of angel investors nationwide, is headed into 2018 with a new leader at its helm.
The nonprofit organization, members of which have invested more than $170 million in more than 300 companies, has five regional networks throughout Southern California.
Come January, Pacific Beach resident Dean Rosenberg, selected recently to take over for former administrative head Sergio Gurrieri, will lead the largest of TCA's regional chapters.
Rosenberg shared a bit with the San Diego Business Journal about his history as an entrepreneur, an investor and his plans for the San Diego chapter going into the New Year.
Q: Before you were part of TCA, you were yourself a founder, and even pitched the group for funding. Tell us about your history as an entrepreneur.
A: I have been doing the "startup thing" since the late '80s. I started a software consulting company while an undergraduate at UC San Diego. I launched a number of startups out of the consulting company over the years, some more successful than others. In the late '90s I was the co-founding chief technology officer of SupplyPro, where we raised over $28 million in venture capital. SupplyPro was an interesting story because it started out as a project by my classmates while we were in the Executive MBA program at San Diego State University. I sold my last company, Airsis Inc., to a public company in 2014 after we achieved some growth with a software product in the maritime and energy industry.
We raised $2 million in angel investment from TCA for Airsis to develop and launch that product, which is where I initially got introduced to the group.
Q: When did you join TCA, and what prompted you to do so?
A: I joined TCA shortly after I sold my company in 2014. I wanted to continue to exercise my entrepreneurship skills to help others, while also taking a break from the trenches of being an active founder/CEO. I was motivated by how dedicated many in TCA were to supporting our local ecosystem with both their time and money.
Q: Tell us about some of TCA's recent successes. What are the most exciting early-stage companies in San Diego the group has backed?
A: TCA has funded over 300 companies and has about 70 exits today. There are the big ones that have been talked about before, like Sandpiper Networks and Green Dot, both (of) which achieved over 100x returns for investors. There was also Savara Pharmaceuticals, which recently went public. We also have some exciting recent investment stories like Echo, an innovative microscope company, for which TCA led a $2 million seed investment last year then, six months later, co-led a $7.5 million Series A financing.
Prev Next