Look Ahead: NuVasive Set to Expand Its Footprint, Increase Its Staff
Sunday, January 7, 2018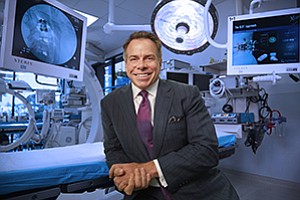 San Diego — NuVasive is poised to keep expanding into 2018, from its balance sheet to its headquarters, with a subplot being the company's lawsuit against its former president, COO and vice chairman.
The spine surgery and medical device company, led by CEO and Chairman Gregory Lucier, anticipates hitting $1.03 billion in revenue by the end of its fiscal year in February, which would be a 7 percent year-over-year increase.
Strong international sales and inroads into new markets account for the rise. In addition, NuVasive in 2017 broadened its offerings by acquiring Vertera Spine and SafePassage.
NuVasive has long been known for pioneering lateral spine surgery procedure, as well as making surgery products. One recent launch includes 3-D printed titanium implants, which mimic a bone's porosity for reduced stress.
Its Sorrento Valley headquarters, too, will grow. An expansion scheduled to begin this month will centralize research and development, prototyping and surgeon education programs. The renovation — expected to be completed in 2020 — will add 100,000 square feet to the 250,000-square-foot campus.
NuVasive was awarded a $3 million California Competes Tax Credit for the expansion. The company did not disclose an estimate for the construction cost.
Count on more jobs here. One requirement of the credit is that NuVasive grow its 2016 California employee total of 651 to 896 by 2021.
Count on legal wrangling as well. In October of 2017, the company filed a breach-of-contract lawsuit against former President, COO and Vice Chairman Patrick Miles, who resigned from the company and took a position as Alphatec Spine's executive chairman.
The lawsuit alleges that Miles dissuaded NuVasive from acquiring competitor Alphatec, schemed to secure a massive equity stake in Alphatec, then recruited NuVasive's employees and plans to use NuVasive's business strategies to revitalize the Carlsbad company.
Soon after, Alphatec fired back in a news release, calling the complaint fictional and a reaction to poor culture triggering the departure of three NuVasive C-suite officers from July to October. It went on to say the legal action is "an attempt to inflict maximum damage to the public reputations of both Mr. Miles and Alphatec."