Costly Budget Cuts Could Leave Justice Short-Changed
Originally published January 7, 2018 at midnight, updated January 7, 2018 at midnight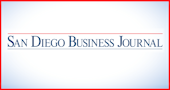 San Diego — The San Diego County Bar Association (SDCBA) has released a report on funding issues limiting access to justice in San Diego County. The expanded update, in part, is the next iteration of the association's annual report on the State of the Judiciary in San Diego County.

While California's judicial branch has faced increasingly substantial budget cuts since 2007, the cutbacks are now beginning to have a more significant effect on the day-to-day lives of San
Diego citizens. For the San Diego Superior Court, 10 courtrooms are expected to close in addition to one civil department. Court reporters will be eliminated in all family law cases, and juvenile dependency operations will be consolidated, among other service cutbacks. This fiscal year, the state budget does not allocate any additional funding for court operations, but the budget shortfall can also be attributed to increased labor costs and the statewide formula to determine how courts are funded.
"Our court leadership has done an incredible job of managing efficiencies to minimize the impact of the budget cuts, but there is only so much that can be done to combat a $30 million deficit," said Loren Freestone, who was 2017 SDCBA president. "Process delays, fewer courtrooms, and the elimination of court reporters affect the safeguards that ensure proper and efficient administration of justice."
The report is available at www.sdcba.org/justicereport.
What the update does not say, and should, is that California judges are not doing the right thing often enough and granting summary judgement. It would be easier for those from the defense bar to be sympathetic if calendars of many judges were not full of lousy claims. Lousy claims cost the court money. Plaintiff folks can hang around a weak claim knowing fee-shifting provisions can make an unwarranted settlement attractive. A lousy claim gets a jury award of $500, triggering thousands in attorney fees. California judges are pawns in the scheme, and the scheme reduces access to justice, too.
• • •
Juanita Brooks, principal at Fish & Richardson, has been inducted into the Litigation Counsel of America (LCA) as a fellow.
The LCA is a close-knit, peer-selected and aggressively diverse honorary society of 3,500 of the best trial lawyers in the country. Less than one-half of one percent of American lawyers, vigorously vetted for skills, expertise and service are invited to join this network of lawyers who effectively represent clients across North America and around the world.
Brooks was elected and invited into the fellowship after being evaluated for effectiveness and accomplishment in litigation and trial work, along with ethical reputation. The selection process included a combination of fellow input, internal research, nominations by fellows, attorney opinions, evaluation of client selection of counsel, limited input from active and retired judges and reviews of acknowledgement and recognition by other peer reviewing sources and associations.
Brooks is a leading trial and appellate litigator, who specializes in intellectual property, product liability and mass tort litigation. She is nationally known for her storytelling, hard-hitting cross-examinations and ability to decipher complex technologies for judges and juries.
More importantly, she has some great nicknames in and around the firm: "A Titan of the patent bar," an "IP icon" and a "jury whisperer." You hear Brooks name a lot, but you might know that she is the first in her family to graduate from high school; she graduated from San Diego State University at the age of 19; and graduated from Yale Law School at the age of 22.
Brooks was the first Hispanic woman to establish a private criminal defense practice in San Diego and has remained a frequent volunteer, speaker and advocate for women and minorities for decades. After more than 20 years in practice, Brooks joined Fish & Richardson in 2000, refocusing her practice on intellectual property and patent litigation. Today, both Fortune 100 corporations and startups turn to Brooks to protect and defend their groundbreaking technologies and pharmaceuticals.
• • •
Speaking of honors, U.S. News & World Report has recently recognized several attorneys and firms. Civil litigation firm Tyson & Mendes has been ranked as a top tier law firm for exceptional personal injury litigation of defendants. This is the first time Tyson & Mendes has been recognized in the highly competitive rankings.
The "Best Law Firms" rankings are determined through a rigorous evaluation process, which is a combination of client and lawyer feedback, peer review from leading attorneys in the field, and additional information provided by surveys in a formal submission process.
The rankings are based on the highest number of participating firms and highest number of client ballots received on record. To be eligible for a ranking, a firm must have a lawyer listed in The Best Lawyers in America, which recognizes the top four percent of practicing attorneys in the U.S. Tyson & Mendes Partner Susan L. Oliver was recognized as such in 2017.
Noonan Lance Boyer & Banach LLP was also recognized by the magazine in its eighth annual ranking. Known for its work on large, complex matters where an entire business may be at risk, NoonanLance was chosen as an exceptional firm in San Diego for commercial litigation and legal malpractice defense.
Dinsmore & Shohl LLP earned top honors in the rankings. Dinsmore's San Diego office received a Metropolitan Tier 1 ranking for Bankruptcy and Creditor Debtor Rights / Insolvency and Reorganization Law, and a Tier 2 ranking for Litigation-Bankruptcy.
Shustak Reynolds & Partners P.C. was recognized in "Best Law Firms" as a Tier 1 firm in Financial Services Law. Firm founder, and Managing Partner Erwin Shustak, was recognized as a best lawyer, the second year in a row that Shustak has been selected for inclusion on the list.
Randy Frisch is in-house counsel for the National University System. He can be reached at rcfrisch@msn.com.